Service Design for Bail Reform | Design Research and Service Design
In New York, 80 percent of misdemeanor defendants can't afford to pay bail of $1,000 or less. The bail system is intended to make sure that people to return to court, but the practice unfairly punishes marginalized people by forcing a difficult choice: either they wait in jail for a trial (often losing their jobs in the process) or plead guilty and accept a criminal record just to go home. We partnered with Brooklyn Community Bail Fund (BCBF) to redesign the bail experience for those who need it most.
For this project, we led user research as well as concept ideation and design for the creation of a bail fund eligibility criteria; a communications strategy for public defenders and BCBF to support explanations of the Bail Fund to clients; and folders which highlighted critical court date information to encourage clients to appear in court (which was previously provided on a confusing and complex, easily-lost small yellow slip of paper).
Since launch, BCBF has seen a 98% success rate of clients returning to court, which administrators attribute to the supplemental communications materials: "We're using the folders every chance we get. It's clear the clients take us and themselves more seriously once the folder is in their hands. They are going to hold on to them—and thus be more likely to make their court dates." BCBF has since raised awareness for the cause, including a widely-read article on Huffington Post and a featured segment on John Oliver's This Week Tonight, and has crowd-funded more than $300,000 for the rotating bail fund.
Partners: Reboot, BCBF
Project content property of Reboot.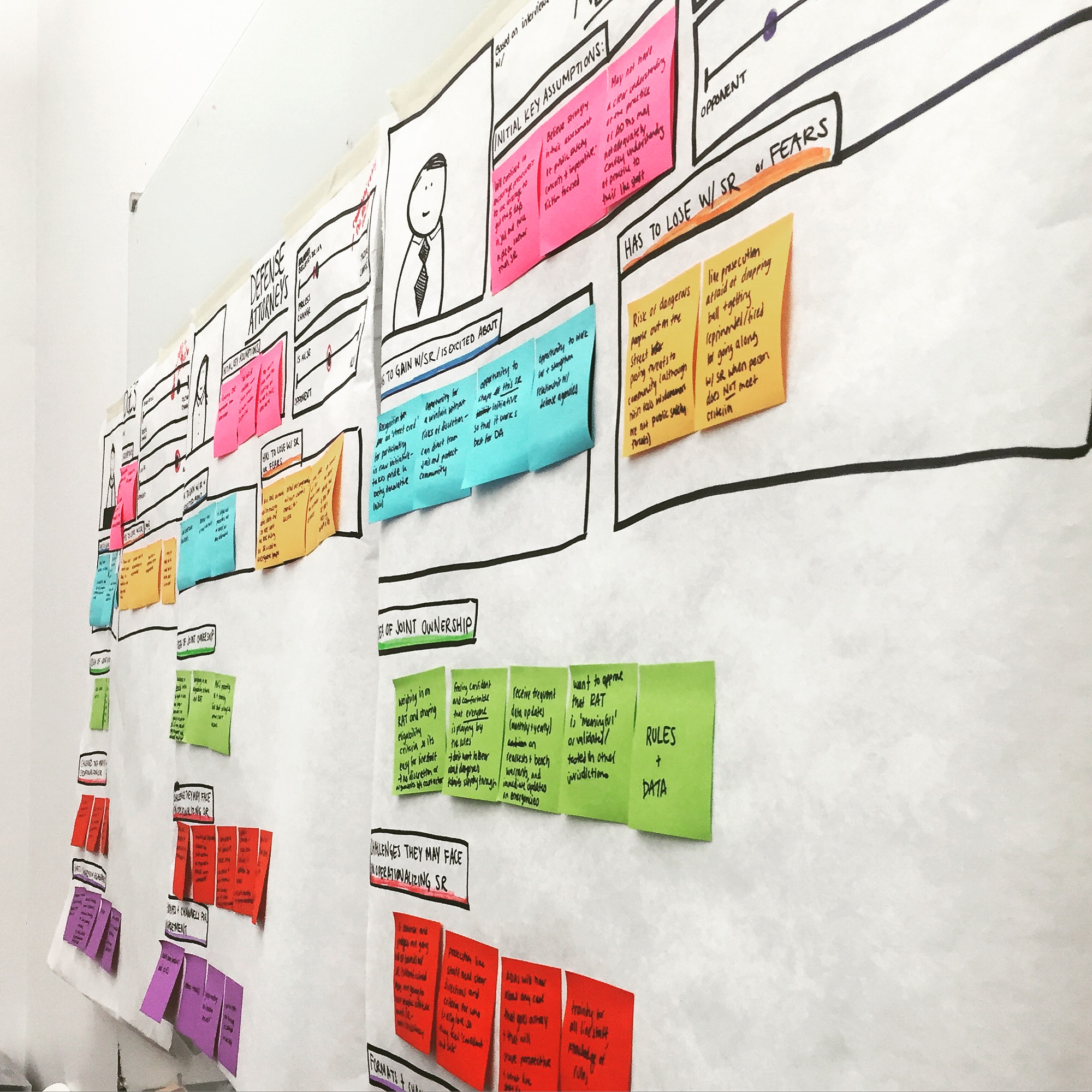 User persona frameworks were developed to sort evidence from research. These helped us understand different system actors' habits, concerns, incentives, and priorities.
Mockups and prototypes used to illuminate different opportunities and risks for operationalizing the bail fund.